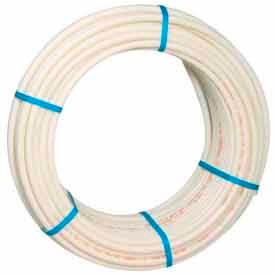 Embassy Liquipex™ Tubing & Accessories
Embassy Liquipex™ Tubing & Accessories Ensures Radiant Floor Heat Safely And Efficiently.

Embassy Liquipex™ Radiant Floor Heat Systems provide steady and safe flow of heat for commerical, industrial or residential heating applications. Available styles include Liquidpex Tubing - Coils or Sticks, Bend Supports, Clips, Foam Tacker Staples, Staple Gun, Cable Ties and more Cross-Linked Polyethylene Tubing is made with DIN 4726 compliant oxygen diffusion barrier, and is rated for continuous use at 100 psi and 180°F, as well as at 80 psi and 200°F. Tube lengths range from 250 ft - 1000 ft. Diameters vary per item.