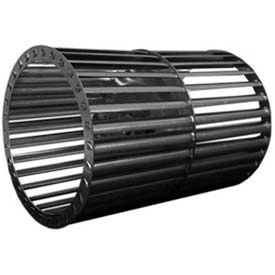 Double Inlet Blower Wheels
Double Inlet Blower Wheels Support Condensers, Small Appliances, and Furnaces.

These wheels are made of aluminum for long lasting durability and strength. Designed to move forced air heated, cooled or ambient temperature to specific spot areas. Diameters vary from 3-3/4 in. to 18-5/8 in.. Bore dimensions vary from 1/4 in. to 1-7/16 in.. Rotations are Clockwise, Counterclockwise and Both. RPMs and overall dimensions vary per model. Indentation types are Belt, Concave, Convex and Flat. Color finish is Aluminum. Package quantity is 1.