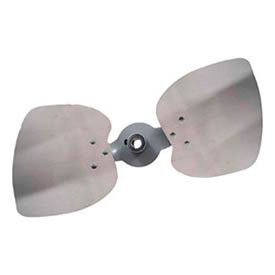 Fixed Hub 2-Blade Propellers With 1/2 Inch Bore
FIXED HUB 2-BLADE PROPELLERS WITH 1/2 INCH BORE
Fixed Hub Propellers Are Used For Lower Static Pressure Condensing Units.

Can be used with well known manufacturer's including GE, Rheem-Rudd, Singer-Climate Control, Trane and more. Blades are made of high strength aluminum. Each blade is clearly labeled as to Pitch, Diameter, Rotation and Maximum RPM. Includes top quality, epoxy painted spiders with high salt spray characteristics. Features steel fixed hub with 1/2" bore.