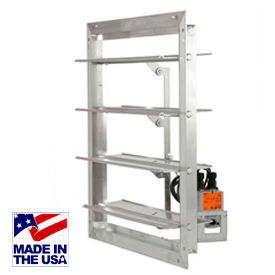 Flanged Heavy Duty Motorized Dampers
Flanged Heavy Duty Motorized Dampers Are Used For Heavy Duty Exhaust Or Supply Applications.

Flanged Heavy Duty Motorized Dampers have a sturdy construction for long lasting durability and dependability. Used for controlling volume and protecting against the elements. Features welded corners for added strength and stainless steel jamb seals to keep out light, air and moisture. The 6 in. wide blades are center pivoted for reliable operation. Comes standard with an internally mounted, factory installed, 100-240 volt power open/spring close motor with end switches. Can be mounted vertically or horizontally to fit the required space. Velocity is 3500 FPM (feet per minute). Choose from models with an Aluminum Frame And Blades or from models with a Galvanized Frame And Blades for increased versatility. Dimensions vary per model. 1 Year Limited Warranty.