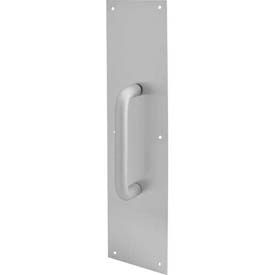 Partition Plates - Push, Pull, and Kick
Pilaster Floor Supports Are Crafted For Use With All Manufacturers' Bathroom Stalls.

Pilaster Floor Supports are made from stainless steel and aluminum for long lasting safety and durability. Styles include: Kick Plate, Pull Plate and Push Plate.The Pilaster Support is 2 ear, 1-1/4", 11-1/2"-14", for use with 1-1/4 inch panels with 2 to 14 inch floor clearance. All plates are finished in Anodized Clear, Bright Brass, Satin and Satin Nickel. Push Plates sold in packages of 1 and 2.