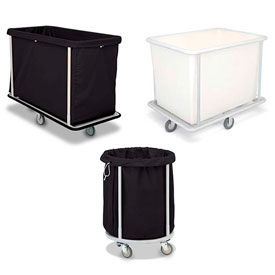 Forbes Laundry Carts
Forbes Laundry Carts Transport Dirty Linens And Laundry Safely And Securely.
Forbes Laundry Carts are made with a stainless steel frame and epoxy finish to provide long lasting durability. Canvas or Vinyl Tub. Body and bumper colors are
Black or White.
Available styles are
Square, Rectangle and Round.
Bushel capacities are
6, 7, 12, 15, and 16.
Wheel diameters are 4" or 5" for easy transport. Other dimensions vary per style.
Great companion to housekeeping carts
Must-haves for no-cart system
Various sizes
Coose bumpered or no-bumper style
Heavy duty and durable
High grade casters for ease ofmobility