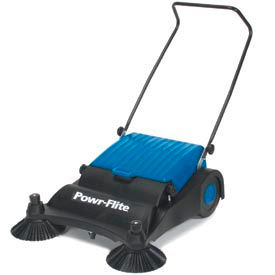 Powr-Flite® Industrial Push Sweeper
Powr-Flite Industrial Push Sweeper Picks Up Dirt and Debris From Large Areas and is used for Maintaining Parking Lots, Garages, Patios, Warehouses and other Hard Floor Areas.

Powr-Flite Industrial Push Sweeper has a durable polyethylene body with a tubular steel folding handle. It's 32" cleaning path provides a work rating of 30 and is able to cover 17,000 sq. ft. per hour for maximum productivity. Sweeper has a 30 lb. light and easy to maneuver construction. Height adjustment allows for efficient cleaning on various surfaces. Quadra Brush System for efficient dirt and debris containment (not used for small dust particles). 9 gallon capacity (1.6 cubic ft.) hopper empties easy. Rear mounted wheels climb stairs.