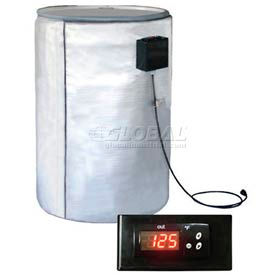 BriskHeat® Full Coverage Drum Heaters
BriskHeat® Full Coverage Drum Heaters Provides Coverage for 55 Gallon Drums for Quick Heat-Up.

BriskHeat® Full Coverage Drum Heaters are made with a silicone-cloth facing and liner with 1" fiberglass insulation for viscosity control, freeze protection, melting of solids, thermal mixing, and more. Designed for use with 55 steel or plastic gallon drums measuring 22-1/3" diameter. Larger heater coverage and high wattages combined with full insulation provide maximum heat efficiency. Easily installs around drums using hook and loop fasteners. Digital temperature controller with audible/visual alarm for ease of use. Dielectric strength of over 2,000 volts. Includes 6'L power cord. Available types areSteel Drums and Plastic Drums. Plastic Drum Heaters offer 50-160° F temperature control. Steel Drum Heaters offer 50-450° F temperature control. Available operating powers are 120V/770W, 120V/1,600W, 240V/770W and 240V/1,600W. Capacity is 55 Gallons. 120V models include standard 3-prong plug (NEMA 5-15), 240V models have bare lead wires. Grounded heating element meets NEC 427.23 standards and CE 73/23/EEC.