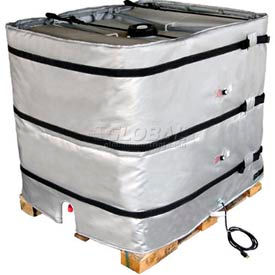 BriskHeat® Wrap-Around Tote Tank Heaters
BriskHeat® Wrap-Around Tote Tank Heaters Are Non-Evasive For Use On Caged, Plastic Or Metal Tote Tanks And Intermediate Bulk Containers.

BriskHeat® Wrap-Around Tote Tank Heaters speed up the flow of slow moving and uncooperative contents such as honey, molasses, lube oil and other viscous fluids without contaminating or scorching products0. Fits any tote tank from 40" x 40" to 48" x 48" using adjustable nylon straps with buckles; 3 straps around the tank and 2 across the top. Made using silicone-cloth facing and liner with 1/4" fiberglass insulation. Features a hole designed for spigot. 2 separate heat zones allow adjustment of heater output when content levels lower. Built-in manual reset high-limit safety thermostat is set at 195°F for each heat zone. Includes 6'L power cord. Meets NEC 427.23 standards and CE 73/23/EEC. Optional Insulated Top Cover helps reduce heat loss and accelerate heat-up. Easily slides under buckles on top of Tank Heater for installation. Adjustable temperature ranges from 50 to 160°F. Height sizes are 36, 42, and 48 inches. Available with120V or 240V operation.