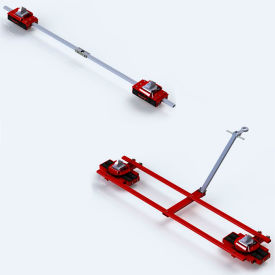 GKS Perfekt® Container Dollies
GKS Perfekt® Container Dollies Offer Transportation For Heavy Loads In Warehouse Facilities, Factories, and more.

GKS Perfekt® Container Dollies feature two separate dollies for increased range of heavy loaded support for equipment or machines. Each model is equipped with locks that securely connect container dollies with intermodal, or ISO, containers for safe, efficient and secure transport. Durable polyamide wheel offers high abrasion and fatigue resistance. Available Weight Capacities range from 13,200 - 26,400 lbs. depending on the model. Dimensions and additional specifications vary per model.