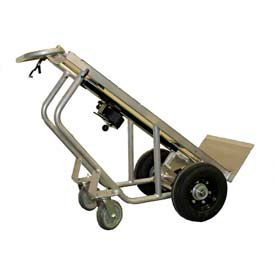 Valley Craft® Casino Hand Truck
Valley Craft® Casino Hand Truck is used for Safe and Efficient Handling of Heavy Industrial or Commercial Material Loads.

Valley Craft® Casino Hand Truck is made of solid aluminum construction for long lasting durability and dependability. Heavy duty Hand Truck provides safe and efficient way to move heavy loads on steps and inclines. Sliding frame helps the operator break over the heavy loads more easily by allowing the frame-and-shoe assembly to slide downward as the truck is lifted back. Ratchet securely tightens and locks the strap to secure the load and rear swivel wheels help prevent loads from tipping back and provides ease of movement. Secure strapping attachment prevents twisting and allows rapid rewinding. Unit adjusts vertically on a mounting bar. Quick release lever unlocks strap. Heavy duty 12 inch diameter pneumatic tires. Hand lever operates brake bands to both load-carrying wheels. 15 foot nylon strap included. 1000 lb. load capacity. Gray finish. Dimensions vary per model.