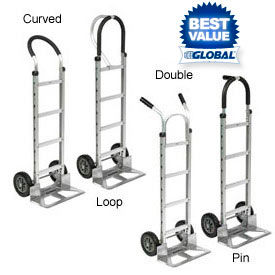 Aluminum Hand Trucks
Aluminum Hand Trucks allow convenient Content Mobility for Applications including Commercial, Industrial, Distribution, and more.

Aluminum Hand Trucks are made of aluminum for long lasting durability. Unit construction provides a lightweight alternative to heavy steel hand trucks. Includes wheels and handle for ergonomic maneuverability and steering. Available types include Ace-Tuf, Balloon Cushion Rubber, Flat-Free, Full Pneumatic, Mold-On Rubber, Pneumatic, ProFlex, Puncture Proof, and more. Handle styles are Curved, Double, Loop, and Pin. Weight capacities range from 500 to 750. Dimensions vary per model.