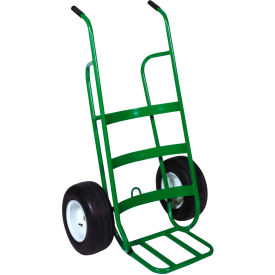 Valley Craft® Nursery Hand Trucks
Valley Craft® Nursery Hand Trucks Are Suitable For Gardens, Grow Rooms, and Nurseries In Need of Secure Transportation.

Valley Craft® nursery hand trucks are designed for moving balled/potted trees and containerized plants. High position skid rails provide extra strength and support to reduce impact if truck is dropped. Steel tow hook offers secure and easy handling. Large pneumatic tires provide easy steering control over rough or smooth terrain. Cold-roll steel axle is 1" thick and encased in steel housing for longer truck life. Hand truck body features sturdy 1¼" 12 gauge steel tubing for lasting support and durability. Load capacity limit is 1,500 lbs. Dimensions and additional specifications vary per model.