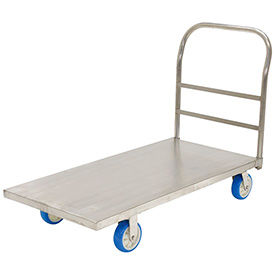 Stainless Steel Platform Trucks
Vesitl Stainless Steel Platform Trucks are suited for Clean Room Environments, Food Handling, Pharmaceutical Industries and More.
These 201 grade stainless steel platform trucks are made with corrosion resistant, non-wearing, temperature resistant, completely hygienic stainless steel roller bearings. Weight capacity is 2000 lbs.
Wheels are polyurethane
Deck lengths range from 36" to 72"
Deck widths are 24",30", and 36"
Deck height is 9-1/2"
Wheels have a 6" diameter.