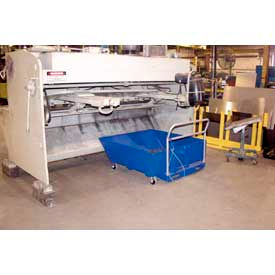 Low-Profile Steel Hopper with Fork Pockets
This Unique Tilt Truck Is Designed For Convenient Parts Dumping With The Assistance Of A Fork Truck.

The low-profile, 18 H design allows the hopper front to be placed underneath machinery as a catch basin for parts. This scrap and refuse cart is designed to reduce the hazards, inconveniences and time associated with collecting parts off the floor. This 10-gauge steel dumping hopper has fork pockets for dumping at 90° with a fork truck. Once the material is dumped, the tilt truck will return to the locked position when lowered to the ground. Rolls easily on 4 x 2 phenolic casters (2 rigid, 1 swivel, 1 swivel with brake), and includes a removable push handle.