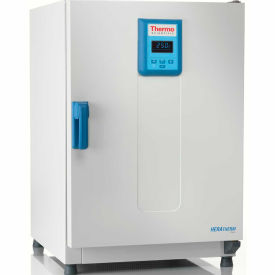 Thermo Scientific™ Heratherm™ Heating and Drying Ovens
Thermo Scientific™ Heratherm™ Heating And Drying Ovens Are Used For Applications Including Medical, Laboratory, Pharmaceutical, And More.

Thermo Scientific™ Heratherm™ heating and drying ovens are made of powder coat steel for long lasting durability and corrosion resistance. Ovens allow expedited drying and heating, optimal temperature stability and uniformity, and low energy consumption. Programmable controller provides convenient temperature ramp and dwell control. Access port allows sensor introduction for independent data monitoring. Boost function enables rapid heat increase. Includes electronically controlled fan speed for application-related airflow and damper position. Features door lock and alarm for sample protection. Available styles include Heratherm Advanced Protocol Oven, Heratherm Advanced Protocol Security Oven, Heratherm General Protocol, Heratherm Large Capacity Advanced Protocol Oven, Heratherm Large Capacity General Protocol Oven, Heratherm SS Advanced Protocol Security Oven, and Heratherm SS Large Capacity Advanced Protocol Oven. Convections are Gravity and Mechanical. Cubic feet capacities range from 2.15 to 27.3. Liter capacities range from 61 to 774. Voltages are 120V and 208-240V. Wattages range from 1440 to 3480. Amps range from 11A to 14A. Dimensions vary per model.