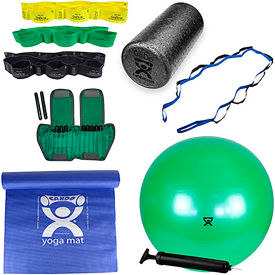 At-Home Exercise Packages
At-Home Exercise Packages Provide Convenient Gym Equipment For Strength Training, Stretching, and Other Workouts.

At-Home Exercise Packages offer practical variations of standard exercise equipment to continue routine varieties of physical exercises. Available Kit Types are Mobility, Mobility Plus, Deluxe, Complete, Pro, and Elite. Select packages include a roll out yoga mat and inflatable exercise ball with pump for more coordination-based activities. Piece types and additional specifications vary per model.