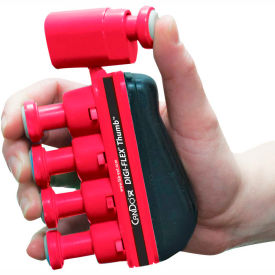 Hand Flexion Exercisers
Hand Flexion Exercisers Are Used For Applications Including Athletic, Medical, Physical Therapy And More.

Hand flexion exercisers are made of high quality materials for long lasting durability and dependability. Units allow flexion of hands, wrists and fingers for increased strength and coordination. Designed for rehabilitation of carpel tunnel, arthritis, fractures, tendon injury and more. Available styles include 6-Spring Hand Grip, Big Grip Hand Exerciser, Digi-Flex Hand/Finger Exerciser, Digi-Flex LITE® Hand Exerciser, Digi-Flex Multi™ Hand Exerciser – Basic, Digi-Flex Multi™ Hand Exerciser – Progressive, Digi-Flex Multi™ Hand Exerciser Set, Digi-Flex Thumb® Exerciser and more. Challenge levels are 10 Assortedtings, 15 Assortedtings, 25 Assortedtings, Assorted, Easy, Firm, Hard, Heavy and more. Package quantities range from 1 to 50. Colors are Assorted, Black, Blue, Chrome, Gold, Green, Orange, Purple and more. Dimensions vary per model.