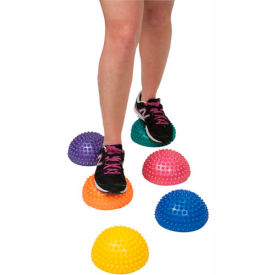 Inflatable Core Training Equipment
Inflatable Core Training Equipment Is Used For Applications Including Athletic, Medical, Physical Therapy And More.

Inflatable core training equipment is made of high quality materials for long lasting durability and dependability. Inflatables are used by therapists for vestibular movement and equilibrium therapy, by fitness professionals for stretching and strength programs, birthing classes and more. Units improve balance, coordination, flexibility, strength and more. Under inflate unit to decrease firmness or inflate fully to increase firmness. Different available styles ensure the ability find training equipment to meet your needs. Package quantities are 1, 1 Set and 6. Weight capacities are 200, 250, 300, 350 lbs. Colors are Black, Blue, Colors Vary, Green, Red, Silver and Yellow. Dimensions vary per model.