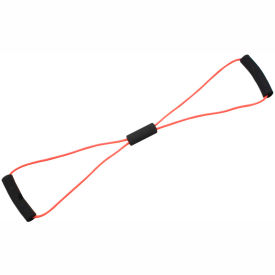 Resistance Tubing Exercisers
Resistance Tubing Exercisers Are Used For Applications Including Residential, Athletic, Physical Therapy, And More.

Resistance tubing exercisers are made of high quality materials for long lasting durability and dependability. Units facilitate upper and lower body exercise for application versatility. Exercisers are lightweight and compact for portable strengthening and conditioning workouts. Dual foam covered rigid handles provide user grip and comfort. Available styles include BowTie™ Tubing Exerciser, Jelly™ Expander - Double, Jelly™ Expander - Kit, Jelly™ Expander - Single, Jelly™ Expander - Triple, Tubing w/ Cuff Exerciser, and Tubing w/ Handles. Challenge levels are Set, XX-Light, X-Light, Light, Moderate, Heavy, X-Heavy, XX-Heavy, and more. Package quantities are 1, 1 Set, and 3. Colors are Assorted, Black, Blue, Gold, Green, Red, Red/Green/Blue, Silver, and more. Dimensions vary per model.