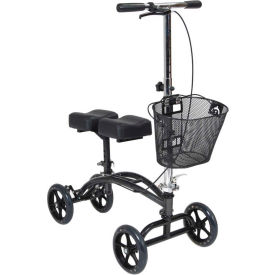 Economy Knee Walkers
Economy Knee Walkers Are Used For Individuals Recovering From Foot Surgery, Breaks, Sprains, Amputation And Ulcers Of The Foot.

Economy Knee Walkers are made from a variety of high quality materials for long lasting durability and dependability. Provides comfortable pain free alternative to crutches. Indoor/Outdoor Universal Knee Walker allows for tool free change from left leg to right leg use. Deluxe lever brake ensures safety. Steerable Knee Walker comes standard with tool free height adjustable dual hand brakes ensuring optimal safety and security when in use. Extra thick leg pad can be height adjusted and channeled to provide increased stability. Types are Universal Knee Walker and Steerable Knee Walker. Size is Adult. Weight capacity is 300 lbs. Dimensions and handle heights vary per type. Quantity is 1.