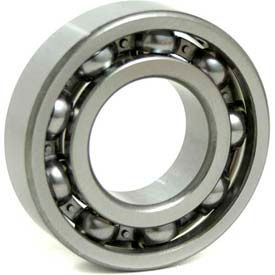 BL Deep Groove, Metric
BL Deep Groove Ball Bearings, Metric Are Used For Precision, High Speed Applications.

BL Deep groove ball bearings, metric are made of 52100 chrome steel for lasting durability. Incorporate grooved raceways on both the inner ring and outer ring, which enable them to sustain moderate axial loads in both directions in addition to radial loads. Balls are separated by steel cages, permitting high speed operation. Wide selection of Open, 2 Metal Shield, or 2 Rubber Shield type bearing units are available in 10 to 60 mm bore diameters, 26 to 130 mm outside diameters and 1030 to 18,400 dynamic or 440 to 11,700 static LBF ratings. Dimensions vary per model.