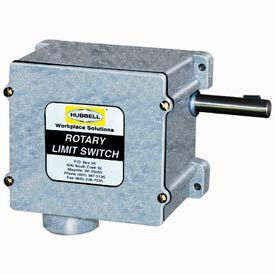 Series 55 Limit Switches
Series 55 Limit Switches Are Used For Electrically-Operated Doors, Conveyors, Hoists, Machine Tool Work Tables And More.

Series 55 Limit Switches provide control over equipment with rotating mechanisms, or linear motion which can be translated into rotational motion. Limit switches measure 5-1/3 W x 5-1/3 D x 3-1/3 H and have a current rating of 15 Amps. These limit switches are base mounted and may be moounted in any position. Limit switches are made with industrial grade bearings and rugged die-cast enclosures. Easy precision timing adjustment. NEMA 4 construction. Limit switches are available with up to four SPDT or DPDT switch blocks for control of multiple functions.