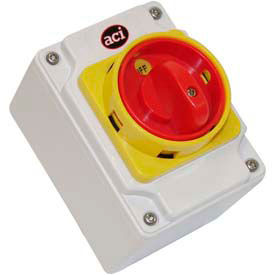 ACI Disconnect Switches
ACI Disconnect Switches Are Used For Dependable Electrical Maintenance And Repair Applications.

ACI Disconnect Switches are solidly made for long lasting durability and reliability. Easily accessible, finger safe, oversized box lug style terminals with combination screw heads that are furnished open, ready to wire. Compact space saving design. Straight line wiring. Long Life Double Break Contacts (Ag Ni), RoHS Compliant. One piece internal Operating Assembly provides positive contact movement. Operating Shaft is center mounted for easy - balanced operation. Shaft goes completely through switch or inserts 1.14" for maximum rigidity. Available with Plastic or Metal Enclosure and 2, 3 or 4 Power Poles. Choose 3-18" to 16" Width 2-7/8" to 8" Depth 4-5/16" to 16"Height.