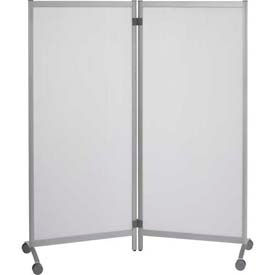 Paperflow - Mobile Partition
Paperflow Mobile Partitions Can Be Used For Domestic Or Commercial Use.

Paperflow Mobile Partitions have an aluminum frame and a polypropylene internal structure for long lasting durability. Comes with two screens and each is equipped with one fixed foot and one foot on two casters, providing both stability and easy mobility. Simply attach casters and partition is ready to use. Comes with four connectors. Dimensions are 30" W x 67" H x 11-3/4" D. Available in Gray or Transparent.