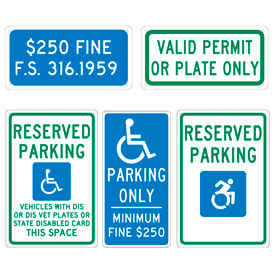 State Specific Parking Lot Signs
State Specific Parking Lot Traffic Signs Provide Parking Lot Control and Handicapped Informational Applications.

State specific parking lot traffic signs are designed to meet road projects and designate restricted and handicapped spaces. Select models feature reflective aluminum for high visibility in dim lit areas Available Sign Legends are Traffic Signs and more. Available Colors are White and Blue. Sign legends, states, and additional specifications vary per model.