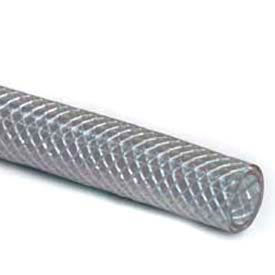 Reinforced Clear Vinyl Tubing
Reinforced Clear Vinyl Tubing Is Suitable For Higher Working Pressure Applications.

Clear Vinyl Tubing ensure efficient tubing with clear polyvinyl chloride reinforced with a synthetic cord for lasting durability. Units are ideal for air, water, and pneumatic lines. Most models are formulated to comply with FDA requirements. Not for transfer of anhydrous ammonia. Operating temperature range is -20°- 150°. Dimensions and styles vary per model.