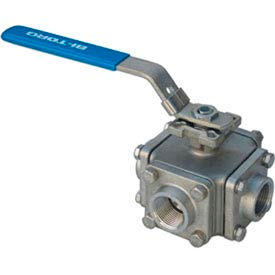 3-Way T-Port SS NPT (Threaded) Ball Valves With Lockable Lever Handles
BI-TORQ® 3-Way Manually Operated T-Port SS NPT Threaded Ball Valves Are Heavy Duty Valves For High Cycle Applications.

BI-TORQ® 3-Way SS Ball Valves are stainless steel and feature NPT (threaded) ends and a T-Port configuration. Multi-port ball valve with a 4-seat design for high cycle applications. RTFE® seats and TFE® seals ensure valves are compatible with a wide range of industries and media types. Valves have a pressure rating to 1000 PSI and a temperature rating to 400°F. Models range in size from 1/2" to 2". All sizes come complete with an ISO mounting pad (for direct mount actuation) and a lockable lever handle for manual use. BI-TORQ® 3-Way T-Port SS Threaded Ball Valves are not suitable for vacuum service.