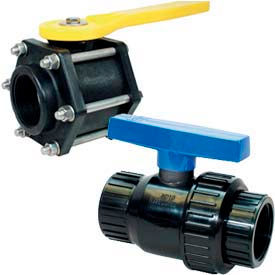 Polypropylene Ball Valves
Apache™ Polypropylene Ball Valves Are Suitable For Fluid Handling Operations.

Polypropylene Ball Valves are glass reinforced for strength and long lasting durability. Bolted models feature unique body-to-flange design, allowing for low torque on/off operation. Select models feature self-aligning ball, which rotates freely against Teflon® seats for smooth function and increased longevity. Available in Full Port, Full Port MxF, Standard Port MxF, Single Union, and Standard Port Dimensions and additional specifications vary per model.