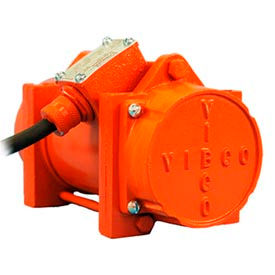 Vibco Heavy Duty Electric Vibrators
Vibco Heavy Duty Electric Vibrators Are Used For Packing Materials, Consolidating Concrete, Silos, Screens And More.

Heavy duty electric vibrators are completely noiseless and are functional for indoor or outdoor use. Totally enclosed and continuous duty. Adjustable eccentrics allow easy change of force to suit applications. High heat-resistant winding takes additional overload and heat. Terminal box allows easy connection and change of voltage. 2P Models operate at 3600 RPM and provide centrifugal force output from 50 to 5600 lbs. 2P models are used for fine to granular materials, packing coarse materials and casting concrete. 4P Models operate at 1800 RPM and provide force output of 100 to 15,000 lbs. 4P models are used for screens, or bins containing lumpy or sticky materials. Meets NEMA and ASTME standards.