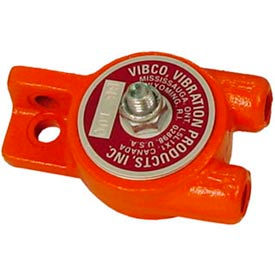 Vibco Pneumatic Ball Vibrators
Vibco Pneumatic Ball Vibrators Produce High-Frequency Vibration Used For High-Temperature Use.

Ball vibrators use compressed air and a hardened steel ball to create high-frequency vibrations within a hardened steel race. Model BB Series Vibrators are dual mount and may be equipped with a muffler on the threaded exhaust port. Used for jobs requiring small to medium amounts of vibration. Model BV Series Vibrators withstand continuous operation at high temperatures up to 350° by maintaining a constant low air pressure of 5 to 10 PSI. Top air outlet port allows discharged air to be silenced by a muffler or piped away from unit. Model V Series Vibrators are versatile and made to work in adverse conditions of water, dirt or extreme temperatures. Produces 600 lbs. at 10,000 VPM.