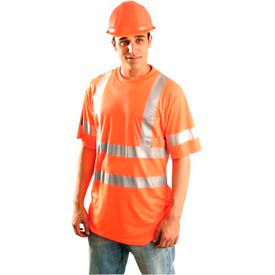 ANSI Class 3 - Hi-Visibility T-Shirts
ANSI Class 3 - Hi-Visibility T-Shirts Provide Worker Comfort and Visibility In Multiple Working Conditions Including Construction, Roadwork, Maintenance, and more.

These t-shirts help regulate body temperature and reduce static electricity for user comfort. The hi-visibility colors with reflective stripes ensure workers are easily seen while working in the field. The microfiber polyester construction is both strong and durable for harsh working conditions. Includes a left breast pocket for convenient storage. Available styles include Class 3 Classic Wicking Birdseye T-Shirt with Pocket, Hi-Vis S/S Pocket T-Shirt, Short Sleeve T-Shirt, and more. Colors are Fluorescent Yellow, Hi-Vis Orange, Hi-Vis Yellow, Lime, Orange, and Yellow. Sizes range from S to 5XL.