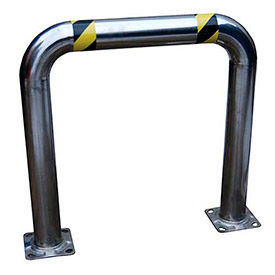 Stainless Steel Machine Guards
Stainless Steel Machine Guards are Corrosion Resistant for Parking and Loading Areas, and other Outdoor Use.

Stainless Steel Machine Guards protect pallet racks, machinery and personnel. High profile guards are made with 304 stainless steel with a polished surface finish. Corrosion resistant stainless steel safety guards are ideal for outdoor applications to help protect warehouse, parking and loading areas. All welded 4-1/2" diameter stainless steel adds structural integrity and heavy duty impact protection. Base plates on all models measure 8" x 8". Meets NSF/ANSI 51-2009 standard for use in non-food and splash zone environments within the food industry. Mounting kits sold separately. Dimensions vary per model.