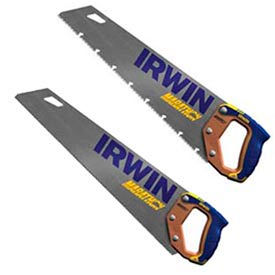 Irwin® Marathon® Carpenter Saws
Irwin® Marathon® Carpenter Saws Are Made With A Variety Of Cutting Edge Features Used For Maximum Cutting Performance.

Irwin® Marathon® Carpenter Saws are made of steel teeth using M2™ Tooth Technology for a fast and efficient cut and a hardwood handle for long lasting durability. Deep Gullets™ and Easy-Start teeth provide rapid and smooth cutting with rapid removal of wood chips. The Thick-Body™ blade built for rigidity and superb control. Tapered-Pitch™ nose improves clearance and stability. ProTouch handle provides an ergonomic design for maximum comfort and durability. Available types are Fine and Course. Blade lengths are 15", 20" and 24". Blade thickness is 1mm. Tooth counts are9 pt and 12 pt. Carton quantities are 2 and 6.