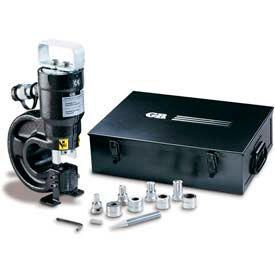 Gardner Bender 35-Ton Hydraulic Punch
Gardner Bender 35 Ton Steel Punch Set Complete
Punches clean, burr-free bolt and small conduit holes in mild steel plates, beams, railings, bus bars or angle iron up to 1/2" thick.
Features:
Portable or fixed applications. Lift and position with easy-carry handle or mount for production setups. Height 133/4", weight 35 lbs.
Four punch and die sets included for round holes 7/16" - 13/16" diameter (gives clearance for 3/8", 1/2", 5/8" or 3/4" bolts or conduit) plus die changeover tool set. Throat depth 3".
Holding plates grip work while punching to prevent binding and clamp punch in place to free operators hands.