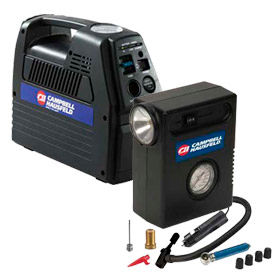 Tire Inflators
Tire Inflators Provide Convenient Air Access for Automotive Garages, Camping, Road Trips, and more.

Save 10% Off Select Campbell Hausfeld Oil-Free Compressors!
Our Price Reflects 10% savings.
Limited Time Savings 5/1/2019 through 5/31/2019.

Tire Inflators are portable or cordless for convenience. Used to inflate tires, air mattresses and other recreational equipment. 120 Volt chargers provide charging capabilities in home or on the jobsite. These tire inflators feature options like high or low air flow, auto shut off and safety light. Maximum PSIs range between 150 and 250. Hose lengths range from 24-36 inches.