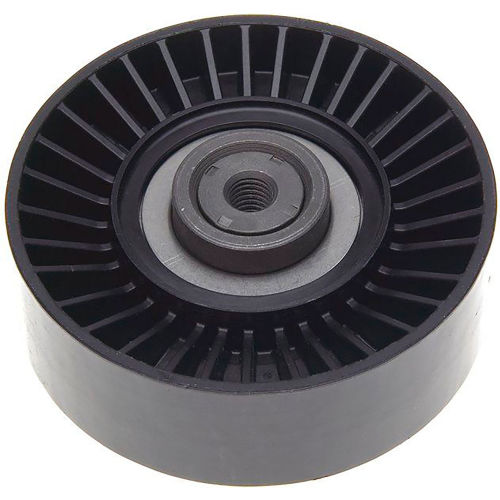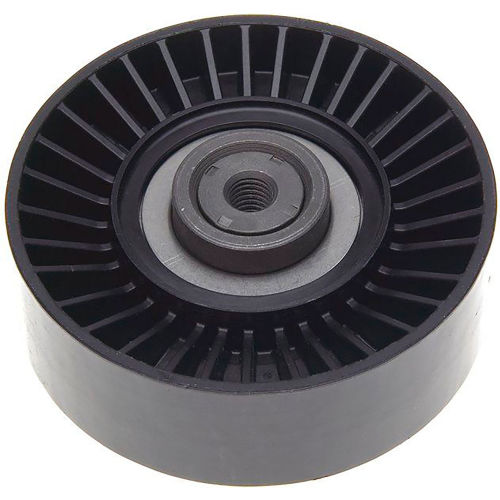 Model #: WBB2438265
MPN #: 38087
DriveAlign Belt Drive Idler/Tensioner Pulley - Gates 38087
DriveAlign Belt Drive Idler/Tensioner Pulley
Gates is a leading manufacturer of Original Equipment (OE) idler pulleys. Gates DriveAlign(R) Idler Pulleys meet or exceed OE specifications. High quality, high strength bearings run cooler and last longer than original bearings. DriveAlign Idler Pulleys are built to last by resisting dirt, salt, and other under-hood contaminants. Designed for use on automobiles and light trucks as locked center tensioning, automatic belt tensioning and idler pulleys.
Additional hardware included with most idler pulleys to make installation easier.
Original Equipment (OE) Exact - Looks and fits just like the OE
Bearing meets or exceeds OE specifications and is designed for application-specific speed and load requirements
Steel or thermoplastic construction provides high durability for extended life
Industry's best light-duty coverage and consistently first to market for late model application coverage
Vibration damping system extends life of tensioner and other accessory components
Reliable operation under severe conditions
Application Summary:
2000-1999 Volkswagen, Jetta, 4-Cyl. 2.0 L, Tensioner Pulley - Alt. & A.C.
Vehicle Fitment: Make\Model Year(s)
Volkswagen
+ Expand List
– Hide List
Cabrio - Engine: L4, 2.0L, 1984cc, 121ci, DIESEL 1995-2002
Cabrio - Engine: L4, 2.0L, 1984cc, 121ci, ELECTRIC/GAS 1995-2002
Cabrio - Engine: L4, 2.0L, 1984cc, 121ci, FLEX 1995-2002
Cabrio - Engine: L4, 2.0L, 1984cc, 121ci, GAS 1995-2002
Derby - Engine: L4, 1.8L, 1781cc, GAS 2000-2009
EuroVan - Engine: L5, 2.5L, 2459cc, 150ci, DIESEL 1995-1996
EuroVan - Engine: L5, 2.5L, 2459cc, 150ci, GAS 1995-1996
Golf - Engine: L4, 1.9L, 1896cc, 116ci, DIESEL 1993-1998
Golf - Engine: L4, 2.0L, 1984cc, 121ci, DIESEL 1993-2000
Golf - Engine: L4, 2.0L, 1984cc, 121ci, ELECTRIC/GAS 1993-2000
Golf - Engine: L4, 2.0L, 1984cc, 121ci, FLEX 1993-2000
Golf - Engine: L4, 2.0L, 1984cc, 121ci, GAS 1993-2000
Jetta - Engine: L4, 1.9L, 1896cc, 116ci, DIESEL 1993-1998
Jetta - Engine: L4, 2.0L, 1984cc, 121ci, DIESEL 1993-2000
Jetta - Engine: L4, 2.0L, 1984cc, 121ci, ELECTRIC/GAS 1993-2000
Jetta - Engine: L4, 2.0L, 1984cc, 121ci, FLEX 1993-2000
Jetta - Engine: L4, 2.0L, 1984cc, 121ci, GAS 1993-2000
Passat - Engine: L4, 1.9L, 1896cc, 116ci, DIESEL 1993-1997
Passat - Engine: L4, 2.0L, 1984cc, 121ci, DIESEL 1995-1996
Passat - Engine: L4, 2.0L, 1984cc, 121ci, ELECTRIC/GAS 1995-1996
Passat - Engine: L4, 2.0L, 1984cc, 121ci, FLEX 1995-1996
Passat - Engine: L4, 2.0L, 1984cc, 121ci, GAS 1995-1996
Transporter - Engine: L5, 2.4L, 2370cc, 144ci, DIESEL 1993-1994