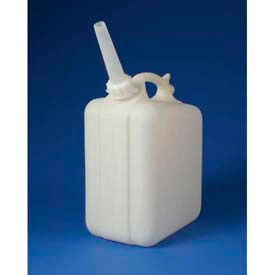 See all 6 items in product family
Plastic Jerricans Are Used For Storing, Transporting And Dispensing Distilled Water, Janitorial Cleaners, Solutions And Other Aqueous Liquids.

Plastic Jerricans are made of lightweight, corrosion-proof High Density Polyethylene (HDPE) material for long lasting durability and dependability. Long spout with a built-in air vent facilitates pouring capability. Spout retracts into the threaded collar to conserve space. Collar is sealed by leakproof screw cap. Extra hand grip on the bottom gives positive control when pouring. Extra headspace for expansion of contents. Graduated in U.S. gallons and liters. 5, 10 or 20 liter capacity models are available with or without molded-in spigot at bottom. 20 Liter Dispensing Jug with top located spigot and opening also available.


Click for more