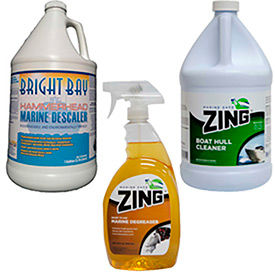 See all 14 items in product family
Marine Cleaners, Degreasers, and Descalers Allow Ergonomic Maintenance for Marine and Nautical Applications.

Marine cleaners, degreasers, and descalers are made of high quality ingredients for reliability. Solutions are designed to remove lime deposits, stains, grease, grime, barnacles, and more. Cleaners are safe for use on most nautical surfaces including hulls, lower units, galleys, engine rooms, and other areas. Formulas contain a blend of acids, metal inhibitors, and detergents to clean and brighten for optimum performance and user convenience. Acid resistant spray applicator is available for ZING® Original Formula Boat Hull Cleaner (B2234066/B2334067) and ZING® Formula IV Aluminum Boat/Pontoon Cleaner (B2234068/B2234069). Available styles include Acid-Resistant Spray Applicator, Aluminum Pontoon/Boat Cleaner, Boat Hull Cleaner, Heavy Duty Degreaser, Hull Cleaner, Marine Descaler, Marine Parts/Engine Degreaser, Marine Safe All Surface Cleaner, and more. Package quantity is 1, 4, 6, 9, and 12. Size types are 32 oz. Bottle, 1 Quart Bottle, 1 Gallon Bottle, 2 Gallon Capacity, 5 Gallon Pail, and 55 Gallon Drum.


Click for more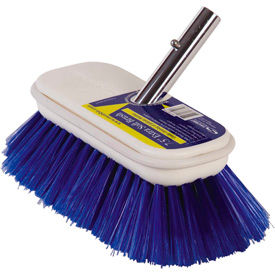 See all 25 items in product family
Swobbit Marine Brushes, Squeegees And Handles Are Used For Applications Including Maintenance, Marine And More.

Swobbit marine brushes, squeegees and handles are made of high quality materials for long lasting durability and corrosion resistance. Units accommodate various maintenance and drying applications. May be used for polished exteriors, clear coated wheels and delicate surfaces. Allows reduced drying times. Mold and mildew resistant. Available styles include Bonnet, Deluxe RV Cleaning Kit, Deluxe Watercraft Cleaning Kit, Drying Cloth, Drying Mop, Extra Soft Brush, Finger Wheel Cleaning Tool, Hand Held Squeegee Blade and more. Package quantity is 1. Color finishes are Aqua, Beige, Black, Blue, Brown, Green/Clear, Metallic and more. Dimensions vary per model.


Click for more