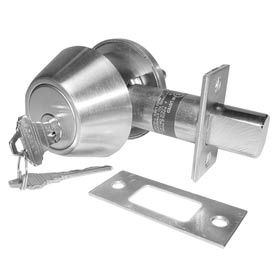 S. Parker Hardware Grade 2 Deadbolts
S. Parker Hardware Grade 2 Deadbolts Are Used For Use With A-Label Or Lesser Doors In Conjunction With A Rated Primary Latching Device.

Grade 2 deadbolts are made using heavy-duty housing with body guard shield to increase strength against wrenching. Deadbolts are made using 1 solid steel with hardened insert. 2 keys per deadbolt. Deadbolts are supplied with security strike, finish strike and dust box for steel or wood frames. Deadbolts are made for doors ranging from 1-3/8 to 1-3/4 thick. Contractor Quality® Deadbolts are available in Single Cylinder and Double Cylinder configurations. Single cylinder deadbolts feature deadlock interior thumbturn. Deadbolts are UL® and CUL compliant. Sold in case quantities of 20.