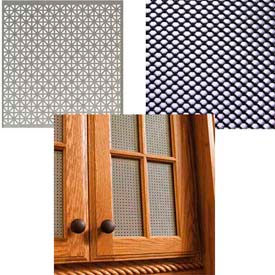 Aluminum & Steel Sheets
M-D Building Products Aluminum And Steel Sheets Are Used For Roof Repair, Window Security, Radiator Heater Enclosures, Cabinet Ventilation, Work Bench Tops And Many Other Home And Workshop Projects And Applications.

M-D Building Products Aluminum And Steel Sheets are made of solid Aluminum, Galvanized Steel Or Weldable Steel with Silver, Bronze or White finishes for long lasting durability and dependability. Easy to cut, form and fabricate for various home or workshop applications. Indoor or outdoor use. Wide selection of Albras, Black, Satin, Satin Nickel, Silver, Venetian Bronze and White finished sheets come in Plain, Cloverleaf, Diamond Tread, Elliptical, EM-2 Expanded, Leathergrain, Lincane, Mosaic, Small Hole or Union Jack pattern design. Available in 6, 12, 24 and 36 inch widths, 12, 18, 24, 36 and 48 inch lengths and various gauge thicknesses. Faux-metal Thermal Plastic Sheet with diamond tread pattern design also available.