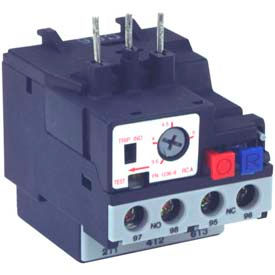 ACI Thermal Overload Relays
ACI Thermal Overload Relays Are Used For Commercial And Industrial Electrical Contractors And Applications.

ACI Thermal Overload Relays are solidly made for long lasting durability and reliability. Ambient compensated -20°: To +60° C. Differential single phasing protection for 3 phase operation. Adjustable bi-metallic elements - no heaters. Precise factory calibrated and tested. 1NO and 1NC electrically isolated alarm contacts. Manual or automatic reset (field changeable). 3 Pole Overload Relay For 3 Phase applications, 2 Pole Overload Relay for 1 Phase applications. UL Class 10 operation. "Reset" and "Stop" buttons are Large and easy to operate. "Trip" Indicator shows status of overload. Available in 2 or 3 Pole in 61mm and 70mm Depth and 0.24 - 0.40 to 9.0 - 12.5Inductive Amps.