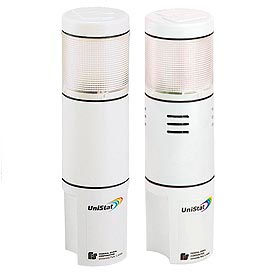 Unistat Tri-Color Status Indicators
UniStat™ Status Indicators Are LED Based, Multi-Color, Single-High Warning Devices.

Using the latest in LED technology, these indicators produce brilliant colors from a single light source. UniStat™ indicators are compact, attractive and easy to install. Provides four integrated flash patterns that draw attention during an emergency situation. Optional Sounder produces 60dB at 10 feet. Units are surface mountable as well as mountable on 3/4 pipe mount. UL and cUL listed. 5 Year Limited Warranty.