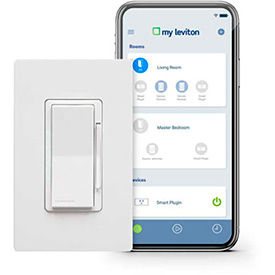 Smart W-iFi Switches
Smart Wi-Fi Switches Are Perfect For Residential Houses and Similar Structures with Multiple Rooms That Can Benefit from Seamless Lighting Management Control.

Smart Wi-Fi Switches integrate with surrounding technology and other applications to control connected loads and lights from anywhere using Wi-Fi. These innovative control mechanisms support LED and CFL technologies up to 600 Watts along with support for legacy incandescent lighting loads up to 1800 Watts, along with support for Fluorescent, Resistive, and Motor loads. Multi-location (3-way) switching is achieved using DD0SR-1 Coordinating Remote (no LED indicator) or DD0SR-DLZ Matching Remote (with LED indicator). Additional specifications vary per model.