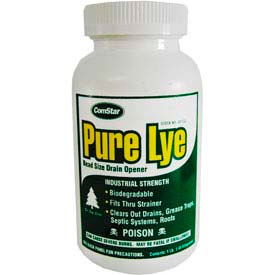 Drain & Waste Pipe Cleaners
Drain And Waste Pipe Cleaners Are Used For Commercial, Industrial And Residential Pipe Cleaning Applications.

Drain And Waste Pipe Cleaners are industrial strength cleaners made for various professional pipe cleaning applications. Non-Acid Liquid, Crystal and Powdered formulas unclog drains without damaging disposals, pipes, porcelain, or septic tanks. Dissolve hair, grease, soap and other organic matter and will not affect the bacterial action in cesspools or septic tanks. Odorless and do not create fumes. Used for homes, schools, hospitals, cafeterias and restaurants. Available in 1 quart, 1/2 gallon and 1, 2, 17, 50 and 400 pound capacities. Sulfuric Acid liquid formulas are specifically formulated to dissolve grease, food particles, hair scale, mineral deposits and other organic matter. Liquefies all organic material in seconds. Protects pipes with a special inhibitor that prevents rust and corrosion. Specially packaged for safe handling. Available in 1 quart and 1/2 or 1 gallon capacities.