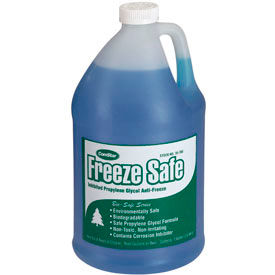 Heat Transfer Fluids
Heat Transfer Fluids Are Designed For Use With HVAC Systems, Refrigeration Systems, Fire Sprinklers And More.

Heat Transfer Fluids meet a wide variety of heating and cooling system needs to maintain efficiently working systems for long lasting reliability. Frost Free and ProFrost prevents system corrosion and clog-ups caused by chemicals and minerals that may be mixed in with the water in operating systems. Freeze Free provides corrosion protection and anti-freeze protection for boats, boilers, cooling towers, solar heating systems and more with a non-toxic, safe propylene glycol formula. Food-Quality Propylene Glycol Chiller Pre-Mix serves as an industrial coolant and heat transfer fluid for systems with possible contact with food, beverages or potable water. Cryo-Tek Anti-Freeze features a unique blend of virgin (not recycled) propylene glycol with triple protection inhibitor additives specific to protecting against acid corrosion in high efficiency boilers and hydronic heating and cooling closed loop piping systems. Glycerine Based Fire Safe provides freeze protection for wet fire protection sprinkler systems. Geothermal Fluid is made with ethanol, methanol, or propylene glycol for a variety of geothermal cooling and heating systems. Sprinkler Safe is an environmentally safe and biodegradable propylene glycol-based anti-freeze for sprinkler systems. Ice Block provides pipe burst protection to temperatures as low as -100° and can be used where there is possible contact with potable water sources. Available in 1, 5, 30, and 55 gallon container sizes.