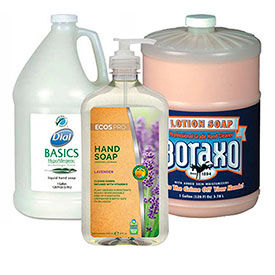 Liquid, Lotion & Powder Soap
Liquid, Lotion, And Powder Soap Allow Hygienic Maintenance For Applications Including Athletic, Medical, Commercial, and more.

Liquid, lotion, and powder soap provide sanitary protection while reducing the spread of germs and other contaminants. Moisturizing ingredients prevent dry skin for user comfort. Types are Foam and Liquid. Styles are Antibacterial, Hypoallergenic, Moisturizing, Moisturizing Smooth, and Moisturizing w/ Pumice. Size types range from 1250 ml to 1 Gallon. Fragrances include Citrus, Fresh Orchard, Lavender, and Tropical.