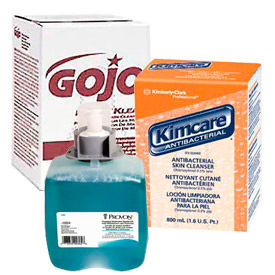 Soap Dispenser Refills
Soap Dispenser Refills Provide Hand Sanitation Maintenance for Public Areas or Restrooms. Medical Facilities, and more.

Soap dispenser refills provide hygienic hand maintenance for rest rooms, kitchens, cafeterias, and more. Made of high quality ingredients for dependability. Compatible with a selection of soap dispensers (sold separately). Available types include Cartridge, Foam, Gel, Liquid, Lotion, and Spray. Styles are Alcohol-Free, Antibacterial, Body Wash, General Purpose, Green Certified, Industrial Hand Cleaner, Moisturizing, and Sanitizing. Capacities vary per model.