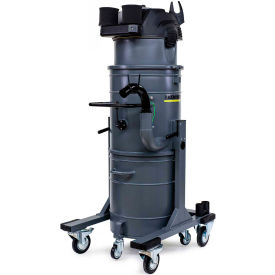 Karcher Industrial Vacuums
Karcher Industrial Vacuums Support Heavy Duty Maintenance For Applications Including Hospitality, Commercial, Corporate, and more.

These industrial vacuums are designed for cleaning and collecting dust and debris in large areas such as hotels, office spaces, classrooms, and other similar environments. The steel construction provides strength, durability, and impact resistance ensuring years of reliable service. The robust casters allow ergonomic vacuum mobility, handling, and maneuverability for proper positioning and placement. Some models support oil collection for waste disposal or recycling purposes. May be used for overhead applications. Available styles are HEPA Industrial Vacuum Cleaner and Industrial Vacuum Cleaner. Gallon capacities are 5.3, 9.2, 11.1, 13.2, and 26.4. CFMs are 79, 103, 145, 201, 216, 270, 271, and 313. Wattages are 851, 1440, 1800, 2100, and 3496. Motor amps are 1.85, 7.6, 15, and 17.5. Cleaning widths range from 15" - 20".