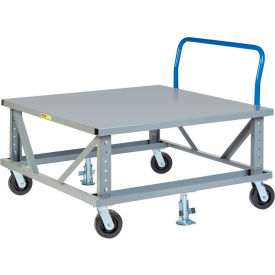 Pallet & Container Transporters
Pallet and Container Transporters Reduce Dependency on Forklift Trucks by providing Mobility for Pallets and Crates.

Pallet and Container Transporters feature all welded construction for long lasting durability. Powder coat finish protects steel frame against rust and corrosion. Available in combinations of Fixed Height, Adjustable Height, and Transporter with 40"D Carousel. Deck styles are Open or Solid. Weight capacities are 3600 or 4000 lbs. Heights are up to 38"-48". Casters and other dimensions vary per model.